Date: Wednesday September 29th, 2010
Time: 6PM
Speaker: Areva Martin, Attorney at Law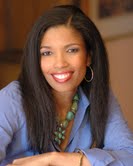 Nationally recognized expert on autism advocacy Areva Martin shares her hard-won knowledge as a parent of an autistic child and an individual rights attorney. In The Everyday Advocate, she lays out vital and relevant step-by-step instructions to parents facing the seemingly impossible odds of advocating for a child with autism.
Parents need to become activists for their children's rights to services and learn how to safeguard those rights-both in school and in the larger outside world. An invaluable resource, The Everyday Advocate offers practical, real-world actions that work, lists helpful websites and organizations, and gives parents and caregivers the emotional support they need as they face the challenge of successfully standing up for children with special needs.
Bio of Ms. Areva Martin
Known to audiences across the country from her regular appearances on The Dr. Phil Show, as well as CBS The Early Show, The Doctors, and various Fox News programs, Areva Martin is a quotable authority on workplace, disability rights, education, custody and women's issues. Areva is also an accomplished and multi-award winning attorney,
syndicated columnist, author and public speaker who has also been featured on the pages of publications ranging from the New York Times to Ebony Magazine to Redbook and the LA Times.
The founding and managing partner of Martin & Martin, LLP, Areva was selected as one of Los Angeles' Top Attorneys by LA Focus. In addition to being a sought after legal expert, Areva is also an inspiring author. Her second book, The Everyday Advocate: Standing Up for Your Child with Autism was released by Penguin books in April of this year. What critics are calling the most comprehensive and compelling book to date addressing the issues of the special needs community and the importance of advocacy in this country, The Everyday Advocate is an Amazon best seller.