Hi, welcome to the conference. You're here because you need help bad. Not to worry let me help.  
Where oh Where Are The Webinars?
To get to the current webinars go to the conference homepage. They will be lined up so you can easily find the event you want to attend. The live event that is currently in session will appear first on the page so can easily get to it.
When does the webinar start, I'm in a different time zone?
If you're in Dubai, Paris or anyplace else in the world no problem, all you have to do is go to the conference homepage and click on the link that says "Timezone" next to the webinar you want. This will allow you to convert to your timezone so you don't sleep past your event.
How Do I Connect Using The Phone
No problem, most of the time people use their computers to listen in to the webinar and watch the slides. But sometimes you might want to go retro and use the phone instead. Not a problem, its super easy. In fact, here is a list of local numbers so you won't have to pay long distance charges.
Dial: (206) 402-0100 or try these local numbers 
Conference ID: 168978#
The conference id is what you type in after you dial the main number
How Do I Ask My Questions Using A Phone?
If you want to ask a question using your phone just press *2 and the moderator will see this as raising your hand. Once you are picked the moderator will announce you and you can speak.
How to Post A Text Question For a Webinar
To post a text question, to a webinar go to the conference homepage and select the webinar you want to post a question to and click the link that says:
 Goto Webinar/Post Question/Preview Event
Then type in the question box and hit submit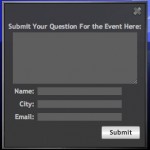 I Thought The Conference Was Free, What is This Conference Pack?
Yes the conference is completely free and has been for 4 years. However, to keep it free we count on people to purchase a copy of the conference (The Conference Pack) to pay the bills. You don't have to purchase but it would be soooooo nice if you did.
Click Here To Purchase The Conference Pack>
OK I'm Still Confused and I Need Help Bad Who Do I Call?
Customer Service: customer-service@momsfightingautism.com
Call Ernest at 714-335-8176 (This had better be good)
SKYPE Ernest at ernestpr