Time: 6pm Pacific (9pm Eastern)
Date: October 19, 2011
Speaker: Marla Root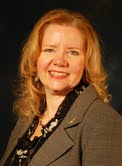 Description:
With the increasing rates of autism it is so important to have accessible information for families and professionals that will direct families to organizations, schools, agencies, and advocates that will help them move forward in treatment as soon as possible.
The session structure will involve a power point presentation that will first focus on an overview of the different state departments and services and funding each provide. The session will then move into discussions about specific funding options such as waivers, Medicaid, education, private insurance and local funding.

Marla Root Bio:
Marla Root is the Director of Community Affairs and Advocacy with Step By Step Academy in Worthington, Ohio. She has worked with hundreds of individuals and families throughout state. She is the 2010 advocate of the year recipient awarded by The Governor's Council for People with Disabilities. She has provided presentations for many organizations such as The Ohio Coalition for the Education of Children with Disabilities, Franklin County Children Services, Autism Society Chapters, OCALI, Milestones, State Support Teams and the Ohio Center for the Deafblind Education. Marla has been advocating for funding and services since 1998 when her son was diagnosed with autism. Marla is currently a board member for the Autism Society of Ohio, Ohio Association of Behavior Analysis and Food For Good Thought. She is a member of the Ohio Association of Behavior Analysis. Marla has a Bachelor of Science Finance degree from Franklin University.