Parenting Older Adolescents with ASD: How to Balance Support While Letting Go
Speaker: Lisa Lieberman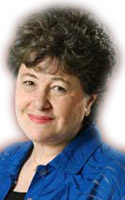 Parenting any adolescent is a challenge in today's world. Parenting roles must change as older teens move into adulthood. The unique concerns of older teen with ASD add a layer of complexity that requires greater forethought and guidance for both teens and their parents. The stakes are high for parents to feel comfortable with a young adult's developmental readiness to move on. Lisa will discuss specific issues involved in parenting older teens with ASD, and explore a necessary balance required between supporting, protecting and letting go appropriately.
Lisa Lieberman (www.disabilityinthefamily.com) is a clinical social worker in private practice with 35 years of experience. Married for 34 years to a man with multiple sclerosis, and proud parent of Jordan, a 24 year old man with ASD, Lisa shares lessons she has learned with audiences nationwide, sensitively addressing issues related to autism spectrum differences and living with disability in the family.
She endeavors to assist families to navigate the emotional journey of parenting children with autism, and to promote self-determination and community inclusion for individuals with disabilities. In addition to numerous articles, Lisa is the author of A Stranger Among Us: Hiring In-Home Support when a Child has ASD or other Neurological Difference, a comprehensive guide to hiring one-to-one providers for children and young adults with disabilities. With humor and heart, Lisa's presentations offer valuable insights to parents and professionals.