Access Our Library of previously recorded webinars:

| | |
| --- | --- |
| Floortime Therapy, It's Use at Home and School | Dr Feder |
| The Verbal Behavior Approach: Teaching Children with Autism | Mary Lynch Barbera, RN, MSN, BCBA |
| Autism: Many Causes, Many Treatments : A multi-treatment approach to the diagnosis and treatment of autism | Jonathan Alderson |
| Communication and Behavior : How to help children, teens, and adults who have little verbal communication skills | Darlene Hanson, MA, CCC |
| What you don't know can hurt your child in the IEP process | Ms. Patricia E. Cromer, Lawyer |
| Asperger's Syndrome and Bullying | Nick Dubin, M.Ed., Psy.S |
| Social Skills : Practical Tips to Help Your Child with Asperger's Syndrome Be More Socially Accepted | Dr. Cynthia Norall |
| Episodes: My Life as I See it | Blaze Ginsberg |
| Practical Suggestions for Challenging Behaviors | Dr. Cathy Pratt |
| From Disability to Possibility: The Power of Inclusive Classrooms | Patrick Schwarz, Ph.D. |
| Autism and the Holidays: Lessening the stress and the expectations, while maximizing the enjoyment | Dr. Esther Hess |
| Succeeding in College with Autism or Asperger Syndrome | Ann Palmer |
| Vision and Living Within the Autistic Spectrum, including Vision Therapy | Carl G. Hillier, OD |
| Successful Inclusion: Providing Literacy Opportunities to Students with Autism | Nancy Brady, MA-EdSP, ATS |
| Inside My Aspie Mind with Taylor Morris | Taylor Morris |
| Six Unexpected Ways to Increase Your Child's Learning | Dr. Kari Miller |
| Special Webinar with Chantal Sicile-Kira | Chantal Sicile-Kira |
| How to Be An Advocate for Your Child | Ms. Areva Martin Attorney at Law |
| Surviving the Holidays with Special Needs | Kim Stagliano |
| Part of the Puzzle is Good Nutrition | Janet Roberto M.D. |
| Autism and Family Life: Taking Care of Everyone's Needs | Dr. Robert Naseef |
| The Out-of-Sync Child: How Sensory Processing Disorder Affects Kids with ASD | Carol Kranowitz |
| Comparing Intervention Approaches for Children with Autism: A View from Inside the Autism Spectrum with Dr. Stephen Shore. | Dr. Stephen Shore |
| Practical Ideas for Decreasing Problematic Behaviors | Cathy Pratt, Ph.D. |
| How do we decide what to do for our kids? | Dr. Josh Feder |
| Hidden Curriculum: Practical Solutions for Understanding Rules in Social Situations | Brenda Smith-Myles |
| Autism Fitness: Making Physical Activity Fun for Anybody | Eric Chessen, M.S., YCS |
| The Immune System in Autism Spectrum Disorders | Phillip C. DeMio, MD |
| Social Thinking | Kari Palmer |
| Accessing Waivers & Medicaid Funding | Marla Root |
| 7 Evidence Based Strategies for Early Autism Intervention | Dr. James Ball ED.D. , BCBA |
| Financial Planning for Children with Autism | Paul Nidich |
| Mending Autism: It is Alimentary My Dear Watson! | Dr. Jerry Kartzinel |
| Issues Facing Siblings of Children with Autism Spectrum Disorders | Dr. Robert Naseef |
| Turning Deficits Into Strengths | Stephen Shore |
| Time, Travel & Transition: Using Visual Strategies for Student Success | Linda Hodgdon M.Ed., CCC-SLP |
| Applied Behavior Analysis: Its Use at Home and School | Dr. Dawn Holman |
| Autism, Food Aversions, and Eating Challenges : Effective Answers That Help | Dr. Lori Ernsperger |
| A New Look at the Needs of Adults and Teens on the Autism Spectrum | Michael John Carley |
| Autism 101: The Basics | Chantal Sicile-Kira |
| Autism Educational Therapies | Dr. Mary Joann Lang |
| Effective IEP Strategies | Mark Woodsmall, Esq. |
| Casein and Gluten Free Diets | Betsy Hicks |
| Inclusion and Socialization | Rick Clemens |
| Marriage and Autism : What You Need To Know | Dr. Robert Naseef |
| Sensory Integration Therapy | Chantal Sicile-Kira |
| Autism and Insurance, What you need to know | Lorri Unumb |
| Asperger's Syndrome, What You Need To Know | Brian King |
| Creating Meaningful Holidays with Children on the Autism Spectrum | Lisa Lieberman |
| Special Diets for Autism and ADHD - What You May Be Missing | Julie Matthews |
| Silently Seizing: Common, Unrecognized and Frequently Missed Seizures and Their Potentially Damaging Impact on Individuals With Autism Spectrum D | Caren Haines |
That's over a hundred hours of audio and over a thousand pages of transcripts,
receive one new program each month.
Fresh New Audio Recordings of new webinars each month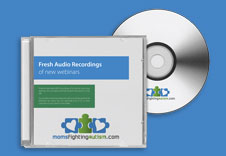 Professionally edited MP3 recordings of this and all upcoming webinars. You can rewind and fast forward to key points on the talk.
You are free to listen and share this with your family and friends whenever you want. You can optionally burn a CD or even copy them to your ipod or mp3 player.
Receive new transcripts of current webinars each month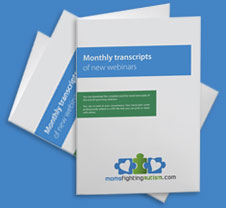 You can download the complete word-for-word transcripts of this and all upcoming webinars as long as you're a member.
You can re-read at your convenience. Your transcripts come professionally edited in a PDF file that you can print or share with others.
Be the first in line to ask your questions at all upcoming teleseminars increasing your chance of getting the help your child really needs.
Automatically receive pre-notications of all upcoming teleseminars so you can plan ahead.
You'll receive instant membership in our members only community so you can benefit from support of other moms in the program. You're not alone anymore.
Receive a Free Copy of 50 Uplifting Stories of Autism
(a $19 value Free)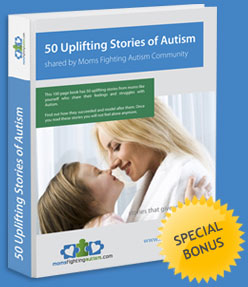 This 100 page book has 50 uplifting stories from moms like yourself who share their feelings and struggles with Autism.
Find out how they succeeded and model after them. Once you read these stories you will not feel alone anymore.
My One Time Offer
You can have all of benefits and bonuses above for just
$1.00*
Just try it for 30 days. I can only make this offer one time only. After you leave this page this offer will be gone.
After the first month, if you like this program you will receive new webinar transcripts, MP3s, notifications and membership each month for a small fee of $29.95/month.
If you're not happy at anytime just cancel and keep the free CD as our gift, transcripts and Mp3s.
That is a small price to pay to reap the full benefit of the current and upcoming seminars.
Remember this offer is gone after this page it will be considerably higher.